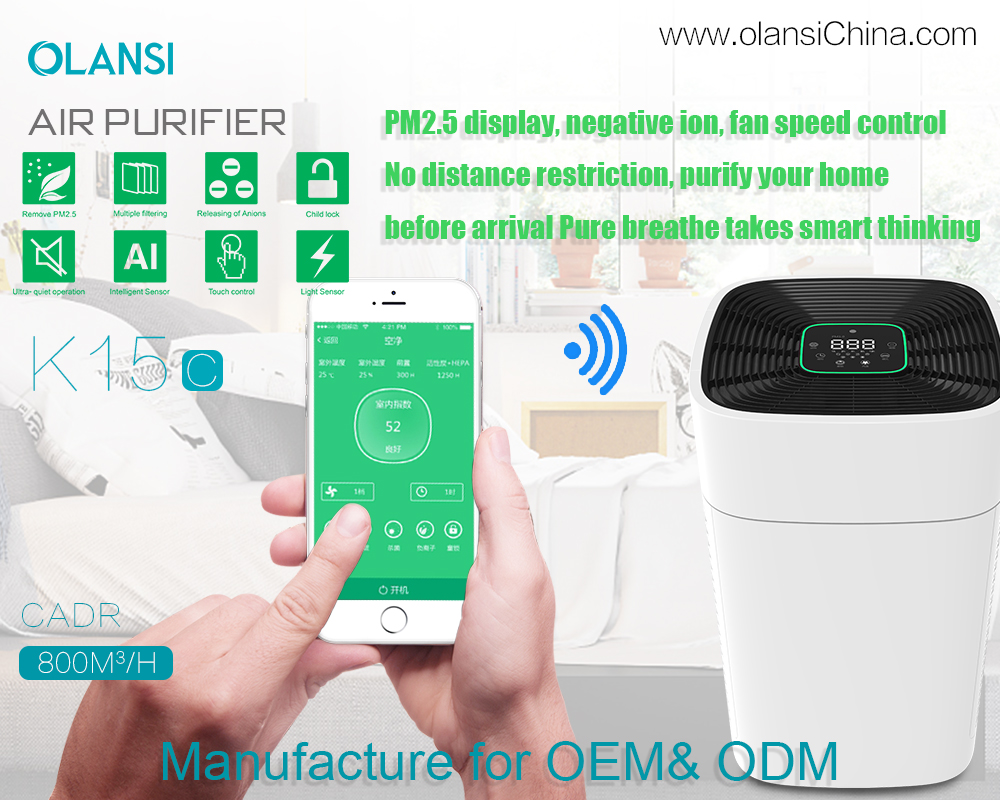 Air purification methods used in china air purifier machines
Air purifiers are not created equal. Because of the popularity of these gadgets today, it helps to understand the different modes of purification that exist to help in the decision-making process. China air purifiers can be chosen based on the features and how well they can work on different pollutants found within the home.

Olansi air purifiers can handle particulates like pollen and dust and may not be the best for gaseous pollutants like carbon monoxide. There are yet others that are perfect for bacteria and viruses. Yet others have the title air purifier, but they don't work on any pollutant.
Olansi air purifiers are made with the greatest technology and bear some great features that make air purification a possibility. That is why choosing from this company can be a great thing in the end.
HEPA filters
HEPA air purifiers are often made with HEPA filters. These are perfect for trapping particulate matter using physical filters. Most of the systems include media filter technology within system. The high-efficiency particulate absorption filters or HEPA are very effective in cleaning the air and can be used in hospitals where sterile air is needed.
Pros
• The effectiveness of these filters keeps going up with the use
• They require very little maintenance
• They are commonly used in the best purifiers in the market
• They are great at taking care of particulate pollutants
Cons
• They may end up hosting bacteria
• Filter replacement may be expensive
• They may affect the efficiency of HVAC systems because they may block airflow
• When filters have an electrostatic charge, they lose efficiency very fast
Ionizers
In this case, the purifiers pump ions into the air. The negative ion purifiers transfer charges to airborne particles, causing them to attach to surfaces and walls, which removes them from the air. This process works. Without care, the purifier may create oxide, which makes asthma worse.
Pros
• They are affordable since no filters are needed
• They are effective
• Are quiet
Disadvantages
• Ionization causes pollutants on surfaces. It may be necessary to clean the surfaces more often to avoid blackening
• It may lead to the production of ozone
UV lamps
These are systems that have UV lamps. The UVC air purifiers work by causing irradiation of germs using lethal doses of UV radiation. They are created for killing germs but work better when there is a filter system in place. It is important to note that they could generate ozone as a by-product.
Pros
• They are quite affordable and need little maintenance
• They are great at dealing with biological contaminants
Cons
• When needed for the whole house, professional installation is required.
• They produce ozone that destroys bacteria and virus but may harm humans
• They only deal with germs
Gas filters
These are filters that use substances such as activated carbon to trap organic compounds that are volatile and other types of gaseous pollutants. This can be effective when used together with particle filters. They are commonly used in commercial and industrial applications but not commonly in homes.
Pros
• They are great at filtering gaseous pollutants
Cons
• The cheaper models used in residences are not effective
• They can only handle specific gasses
Olansi air purifiers are some of the best in the market. There are different options available, and one can make the right choice based on their particular needs.
For more about air purification methods used in china air purifier machines,you can pay a visit to Olansi China at https://www.olansigr.com/ for more info.