Wholesale hepa filter air purifier and what makes them great for home
Views: 100 Author: China Air Purifier Manufacturer Publish Time: 2021-08-20 Origin: https://www.olansichina.com/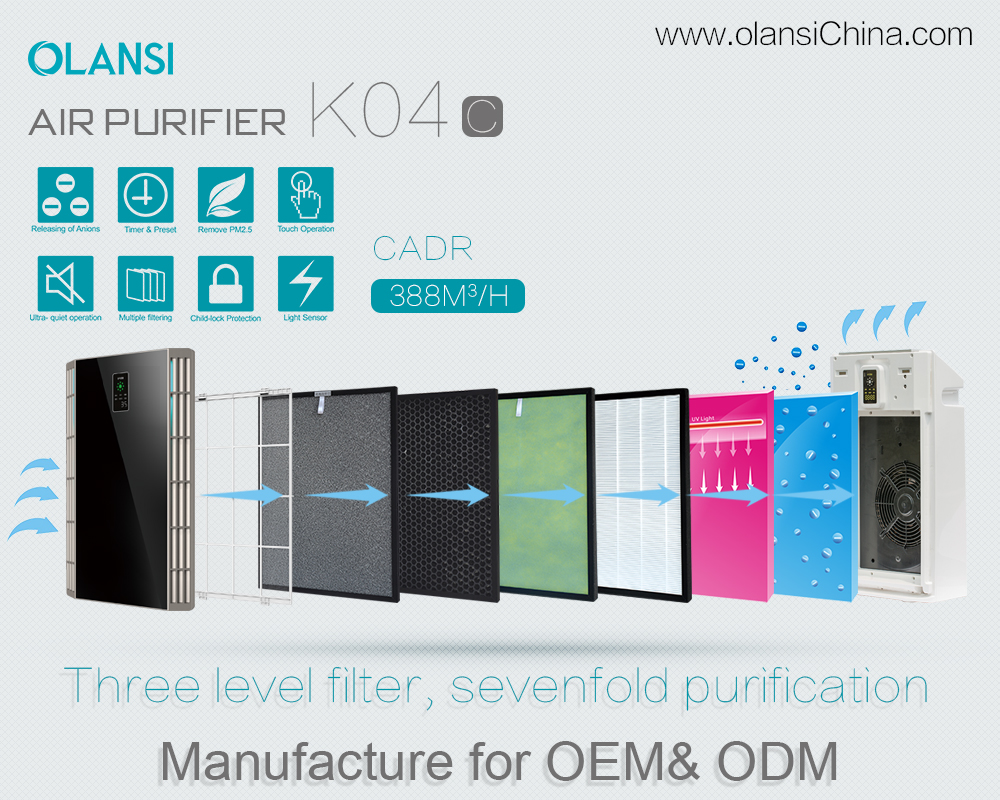 Wholesale hepa filter air purifier and what makes them great for home
Deciding to purchase an air purifier for the workplace or home is an important thing. It is possible to pick an air purifier from anywhere. There are so many catalogues all over, online deals, and some crazy offers related to home air purifiers. It is hard to ignore the great prices offered and the great marketing done at different prices. When purchasing a great china air purifier, the most critical thing is to find one that works and at a fair price.
When people buy an air purifier, they usually do it based on the price range; the features come second in most cases and then comes the way the air purifier looks. However, this doesn't always mean that the purifier is the best thing. It is important to consider the long-term cost before picking an air purifier. A good air purifier needs to be cost-effective and should be functional. That means it should be capable of cleaning the air.
It is important to appreciate that some air cleaners are only good on the surface, but they do a bad cleaning job in reality. Olansi air purifiers do a great job cleaning the air, and choices should be made based on the stuff one aims to clean.
The most common things that are found in the air include particles like tobacco smoke, dander and dust, odors, and gasses such as pet smells, aerosols, chemicals, and food smells; VOCs such as adhesives, glues, cleaning supplies, varnishes, and paints; microorganisms such as bacteria, pathogens antigens, and viruses; and advanced microorganisms such as avian influenza.
There are many people who assume that some of the above pollutants don't exist in the indoor environment. For anyone who doesn't own pets and doesn't smoke, then around 25 percent of the list above can be eliminated. However, pretty much of every other thing listed above get in and out of homes daily. The particles can get in through the doors and out through the windows. Some houses aren't air-tight, which means that more articles get in through the inlets. There are so many gasses that are not only invisible but odorless as well. Everyday things like flooring, paint, carpets, beddings, computers, furniture, food, and clothing can contribute to indoor air pollution.
To ensure that an olansi air purifier is the best for the home, it is important to first evaluate if it bears the technology to deal with common pollutants found within a particular household.
The things that help determine whether a HEPA air purifier, UVC air purifier, PM2.5 air purifier, or negative air purifier is the ideal choice is whether it is within a specified budget. An expensive purifier is not necessarily great, and a fairly priced one is not necessarily bad. Long-term costs need to be considered as well.
One needs to identify the technologies used on the purifier. There are so many great technologies that can clean different pollutants.
The final thing is picking an air purifier that is effective and does a great job cleaning pollutants within the air. These are things that ought to be considered one at a time. At the end of the day, one should decide on the best china air purifier that gets the job done in the most cost-effective and thorough manner. For more about wholesale hepa filter air purifier and what makes them great for home,you can pay a visit to Olansi China at https://www.olansivn.com/ for more info.