Lingo to understand more with the china air purifiers market
Views: 23 Author: China Air Purifier Manufacturer Publish Time: 2021-07-22 Origin: https://www.olansichina.com/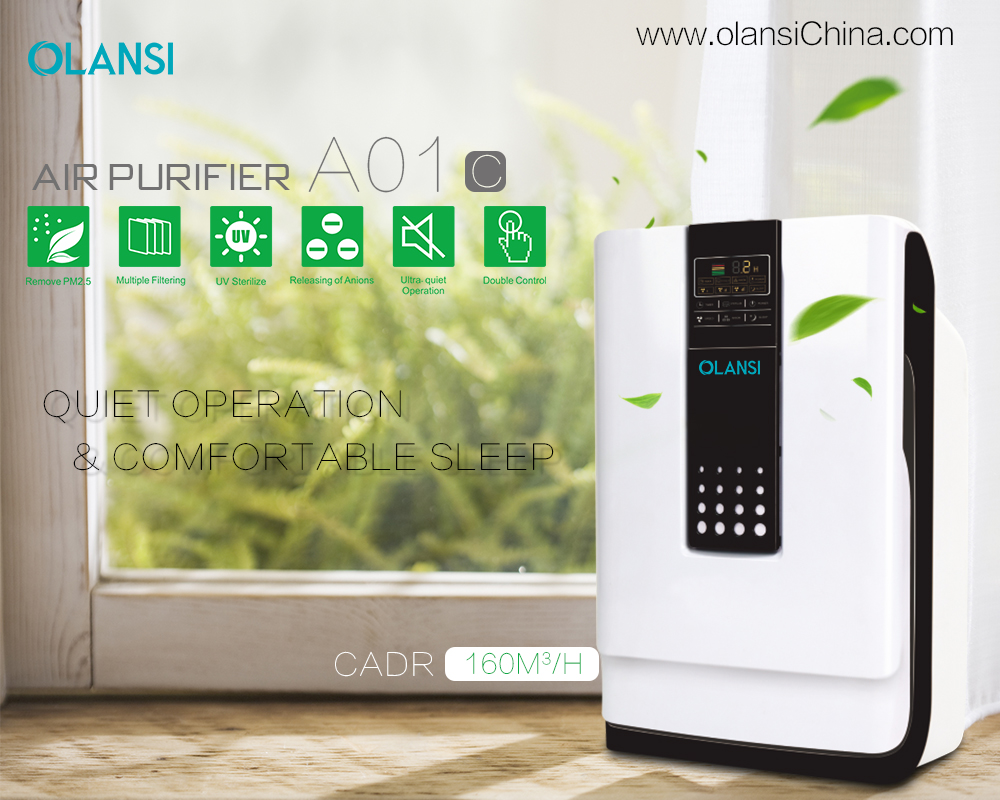 Lingo to understand more with the china air purifiers market
The china air purifiers market is infiltrated with lots of products. For this reason, it is normal to get a bit confused in the selection processes. Understanding the lingo used in this market can help in the decision-making process. Whole Olansi air purifiers are some of the best available in the market today; it helps to know what they are about if one is to select the most ideal option for their particular need.
There are some terms that should be understood and taken into account. The best home air purifier should be able to clean the air within a room or home effectively. This can only be achieved if the best choice is made.
Microns:
This refers to a millionth of one meter. It is called the micron or micrometer. It comes with the m symbol. This unit is commonly used to describe particle sizes in terms of measurement that the particular filter used in an air purifier can catch.
There are some comparisons that can help in understanding particle sizes in microns.
The particles that are visible to the human eye are around 50m
• Human hair can be 30-120m
• Pollen is 10m
• Respirable particles can be up to 10m or less
• Viruses are around .003m
• Bacteria .3 m
Respirable particles
These are in reference to airborne matter that is 10m or smaller in size. The particles can enter deep into the lungs and cause cardiovascular and respiratory issues in humans.
CADR
This means clean air delivery rate. This system has been in use for a while, and it measures the amount of air that is treated effectively by portable air purifiers. The ratings are found in the packaging of a unit and usually have three numbers. Each number represents the purifier's effectiveness in catching different pollutants such as smoke, pollen, and dust.
It is recommended to get a purifier with 2/3 smoke rating against the footage of a room. This means a 10 by 15 ft room. ought to have a purifier bearing a rating of 100 or more assuming the ceiling height is 8 feet.
Olansi air purifiers take into account the CADR system because it is highly respected.
MERV
Minimum efficiency reporting value or MERV was a development to measure the ability of a filter to trap particle pollutants such as dust. The rating scale can range from 1-16. 4 is a rating for normal dust filters to protect a HAVC system. 16 is an effective filter that can catch about 95% of all particulate matter. The scale does not support HEPA filters since they rate between 17-20. This is what makes HEPA air purifiers so effective.
The thing is that many homeowners may not need the MERV 16 filters. This is because they tend to restrict airflow, which reduces the efficiency of the HAVC systems. They can also be very noisy if used in single room options and can consume lots of energy.
China air purifiers come in all shapes and sizes. Olansi air purifier's covers different kinds, including the negative ion, the PM2.5, UVC, and HEPA air purifiers. Compare products and make the wisest decision. For more about china air purifier,you can pay a visit to Olansi China at https://www.olansipl.com/ for more info.