Can china H14 heap air purifiers really help with different types of allergies?
Views: 10 Author: China Air Purifier Manufacturer Publish Time: 2021-12-29 Origin: https://www.olansichina.com/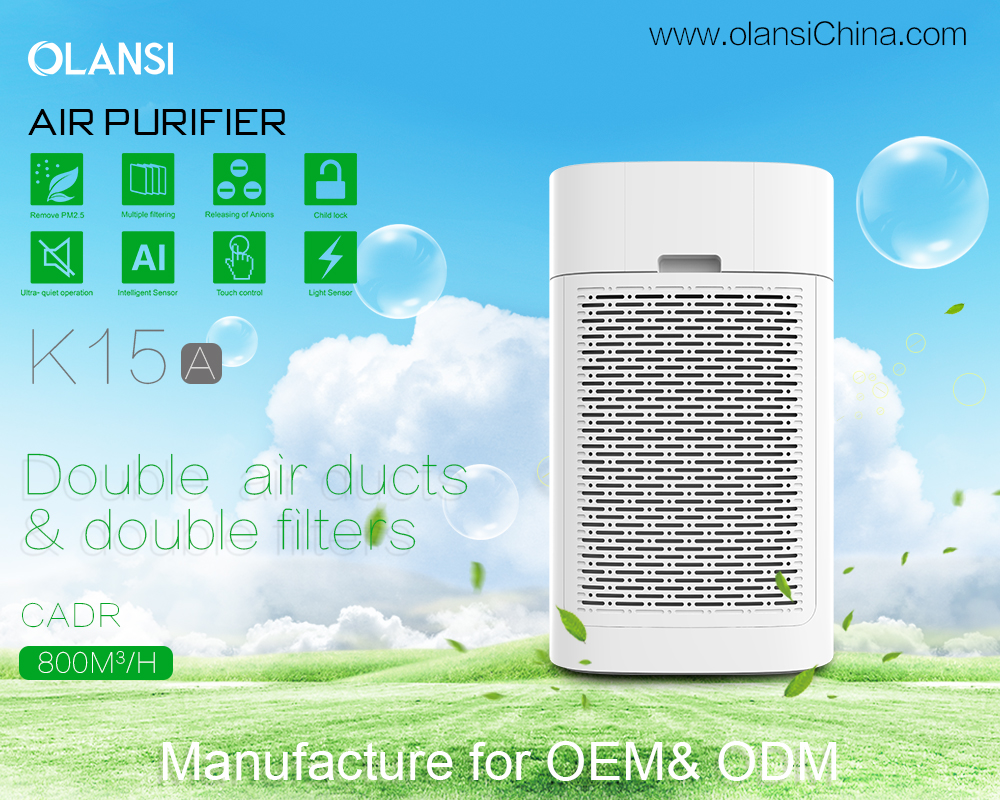 Can china H14 heap air purifiers really help with different types of allergies?
With so many discussions about air purifiers and their importance, everyone wonders how they can benefit from these gadgets. Some of the most affected people are those with allergies. Answering the question whether china air purifiers can help with allergies is not that easy to answer. Purifiers have the power to get rid of microparticles and allergens that could lead to allergic reactions. However, there is a major difference between every purifier. Some common allergens are present within households.

Pet fur
Many people are allergic to pet fur, and the reactions can be extremely severe in some individuals. Because of these allergies, some people can't be near animals at all in the home. There are instances when this cannot be avoided, and this allergy issue can be cleared with the right air purifier. However, not all Olansi air purifiers can handle pet fur.
Pollen
Pollen allergies are common as well, and the reason for this is not well known. If the purifier is being purchased for such an allergy, a true HEPA filter can be an added advantage and can remove pollen.
Dust mites
Dust mites can cause serious allergies too. With a H14 HEPA air purifier, this can be handled and the dust mites removed. The HEPA fitters may not be able to handle the feces because they are quite small. Ionizing technology may be the best to handle dust mite feces.
Mold spores
This is one of the worst allergens within homes. There are many households with mold in different parts of the house. When not treated, things can get worse and pose serious health issues. Ionizing technology may be needed to handle this.
As noted above, Olansi air purifiers can really help with allergies. Ordinary people may not have allergies, but it is still healthy to breathe clean and fresh air.
People with allergies can prevent reactions even before they happen by choosing the best air purifier manufacturer to handle different allergens. Most air purifiers can take away most of the airborne particles.
The truth is that an air purifier can actually help with allergies but only if it is the right kind. When getting the best UVC air purifier, HEPA air purifier, or any other type of air purifier, it's important to note that so many fake products are infiltrating the market today. It is important to choose the purifier wisely. It is also important to choose the air purifier supplier and manufacturer wisely.
Olansi air purifiers come in all shapes and sizes. To ensure the right one is picked, one must first identify the kind of allergens present within the home. The right air purifier factory takes a lot of things into account before settling for a specific purifier. They test the devices and come up with pony the best solutions.
Olansi has been in the market for a very long time and can supply different types of air purifiers that are not only efficient but also functional. With over a decade of experience in the air purification industry, this air purifier manufacturer has advanced in so many areas, thereby making it possible for them to come up with some of the best solutions as far as air purification is concerned.For more about china H14 heap air purifiers really help with different types of allergies,you can pay a visit to Olansi China at https://www.olansichina.com/how-electronic-home-h14-hepa-filter-air-purifier-air-cleaner-work-and-how-to-pick-the-right-option.html for more info.