German air purifier manufacturer and dealing with dust mite, pet dander, and mold spores
Views: 76 Author: China Air Purifier Manufacturer Publish Time: 2021-10-14 Origin: https://www.olansichina.com/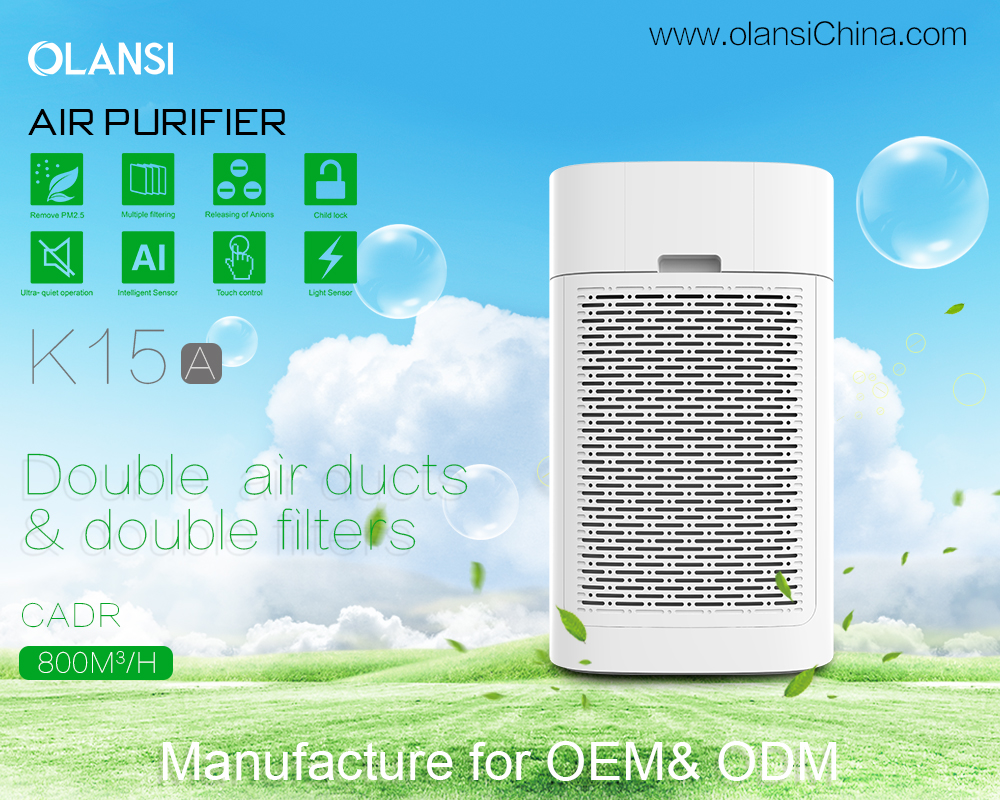 German air purifier manufacturer and dealing with dust mite, pet dander, and mold spores
Air purification has become one of the most important things to do within the home today. This is the information era where many things are better understood and suitable solutions given to handle the same. One of the greatest causes of diseases and illness is polluted air.

There are all sorts of pollutants that can be found within the home. Every pollutant has got its own potential effects on health which can be very serious at times. Understanding the pollutants found within homes is the starting point to finding a lasting and suitable solution for the same.
To ensure that the best German air purifier is chosen, there should be an understanding regarding the pollutants present within the air. In this way, the air purifier manufacturer can recommend the best choice to make.
Handling allergies caused by different pollutants
When it comes to allergies caused by dust mites, mold spores, and pet dander, it takes more than a normal air purifier to deal with the same as appropriate. Dust mites cause allergies. This can happen when body parts and feces of the dust, mites are inhaled. This can have ill effects on the body, which is never a good thing.
Some conditions encourage the growth of dust mites in beddings. They can reproduce and cause an issue. It is important first to control the dust mites as much as possible. Mold spores and pet dander should also be controlled. These can easily settle within living spaces and pose a health issue if not tackled well.
It is possible for these pollutants to be filtered while still in the air. However, once they settle, it becomes a different story altogether. Most air purifiers cannot suck the potent allergy triggers once they settle on furniture, gloats, curtains, beddings, and pillows, regardless of how tiny they are. The pollutants stick and settle on objects. They can be held in place by electrostatic forces until a breeze forces them to be airborne again.
This means a whole house china air purifier is only a part of the solution. This greatly reduces the extent of indoor pollutants. Other things can help to eliminate the source of pollution. One good example is the maintenance of the ideal humidity level. This can greatly reduce mildew, mold, and mites. It also helps to use bedding that is dust mite-proof. This is often hypoallergenic.
Proper cleaning
Even with a china air purifier from German is in place, it cannot substitute cleaning. Using a true HEPA vacuum cleaner can be a great thing. A central vacuum cleaner is also a good choice. These cleaners can get rid of dust mites allergens. They can also handle all other particulates way before they can become airborne.
It should be noted that dust mites thrive in humid and warm houses. This is because it can reduce pollutants to a great extent. This means the installation of a dehumidifier to regulate the indoor air can be an added advantage. Dehumidification is a great way of reducing mildew and mold allergies once water leaks and wet areas are eliminated. Water damage can make things a bit hard to handle.
Installing high-quality HEPA air purifiers and UVC air purifiers can go a long way in cleaning the air. Keeping the home clean makes this dream conceivable and easier to achieve.For more about german air purifier manufacturer and dealing with dust mite, pet dander, and mold spores,you can pay a visit to Olansi China at https://www.olanside.com/ for more info.