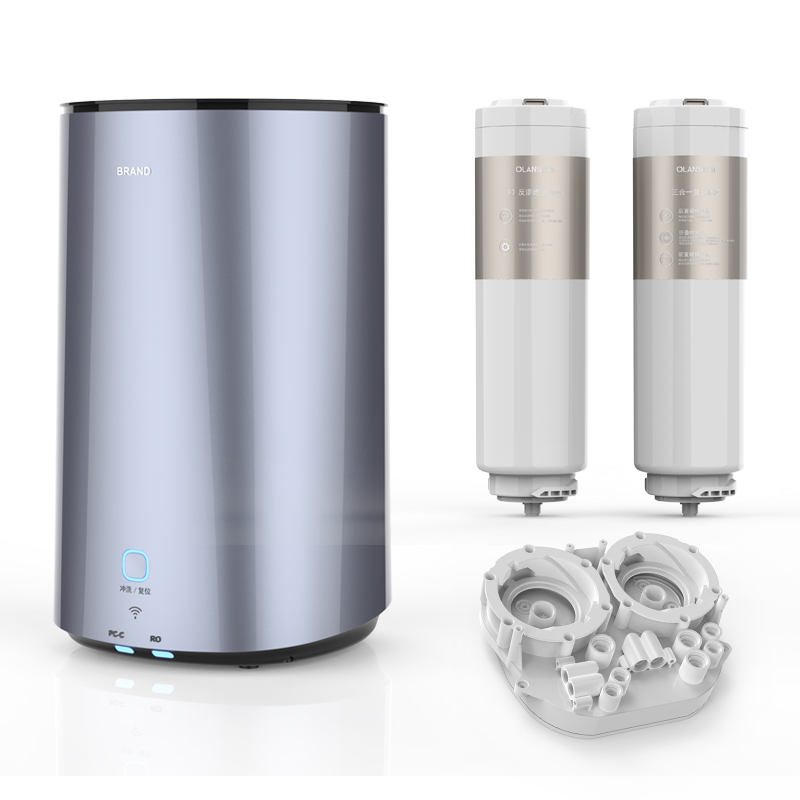 Pros And Cons Of RO Reverse Osmosis Hot And Cold Water Dispenser Purifier With Alkaline Water Filtration System
RO Reverse Osmosis alkaline water dispenser purifier is a popular type of water purification system. It uses the reverse osmosis technology to remove contaminants in drinking water. Although investing in a reverse osmosis (RO) water purification system can be relatively expensive for your office or home, compared with other water purification methods, RO Reverse Osmosis alkaline water dispenser purifier is pretty easier and cheaper to maintain.

Reverse osmosis technology for water filtration was developed by the US military toward the end of 1950. What began as an attempt towards searching for a means to remove salt from saltwater (especially seawater) to produce water suitable for consumption by the US soldiers in rough terrains and also remove certain chemical contaminants like heavy metals from water, has now become a popular and reliable water filtration technology used by many homes presently.
Reverse osmosis (RO) is a procedure where water (tap water, natural spring, rainwater, etc) is forced through a material or membrane with tiny pores (semi-permeable membrane), allowing water molecules that are smaller in size compared to larger molecules like salt and other heavy metals to filter through. This process helps to purify water by separating water molecules from other contaminants.
Regardless of the attempts by your local water utility company to ensure tap water is safe and clean for drinking, you cannot guarantee the removal of all the contaminants in the water supplied to your home. Therefore, having a RO Reverse Osmosis Water Dispenser Purifier in your home or office is important. In this article, the pros and cons (that is, the advantages and disadvantages) of having a RO Reverse Osmosis Water Dispenser Purifier are discussed. This will guide you when making a decision to install a water dispenser purifier that uses reverse osmosis technology in your home or office.
Advantages of RO Reverse Osmosis Alkaline Water Dispenser Purifier
1. Reverse Osmosis is Very Effective in Removing Contaminants
This is one of the most important benefits of a RO Reverse Osmosis Water Dispenser Purifier. Its effectiveness in removing contaminants has made it have a wide range of application-from the treatment of wastewater to the filtration of water in our homes. The filtration process progressively removes about 98% of these contaminants through a finer semi-permeable membrane from a drinking water supply: Sodium, Calcium, Lead, Sulfate, Fluoride, Arsenic, Chloride, and Mercury.
The process used by RO Reverse Osmosis Water Dispenser Purifier is more efficient than the use of only a charcoal filter. The charcoal filter is not capable of removing some contaminants.
2. Energy Efficient
RO Reverse Osmosis Water Dispenser Purifier uses the water pressure from your home water supply. Unlike distillation that requires electricity and heat, it only requires pressure from your water supply.
3. It Provides Regular Clean Water
RO Reverse Osmosis Water Dispenser Purifier is directly connected to the tap or faucet in the house, providing a regular and clean drinking water supply. After a while, you might not remember there is a water filtration system linked to the water supply in your house.
4. Reverse Osmosis Removes Minerals Also From Water
RO removes minerals like magnesium and calcium that cause hardness in water. Hard water has the following negative effects:
• Forms scales on plumbing appliances and fixtures
• Makes your hair feel slimy and your skin feels dry immediately you leave the bathroom.
• Causes your clothes to fade faster than treated water
• Stains your bathtubs and sinks
• Regular plumbing repairs
• Creates white spots on glassware and dishwater making them unattractive
5. RO Reverse Osmosis Water Dispenser Purifier Saves You Money
It reduces the cost of purchase of bottled water, and regular plumbing repairs due to hardness in water. Depending on the number of bottled water you buy, when accumulated over a year, it saves you an appreciable amount of dollars yearly.
6. Reverse Osmosis Makes Food Taste Better.
A lot of people have reported that their food tastes better when they started using water from RO Reverse Osmosis Water Dispenser Purifier. This is due to the removal of impurities and minerals from water through reverse osmosis. The chemicals and minerals in a water supply that is not treated could alter the taste of your food when you cook with such water.
Although the heat, during boiling of water may kill the bacteria present, certain contaminations may remain in the water.
Disadvantages of RO Reverse Osmosis Water Dispenser Purifier
Reverse osmosis water filtration system has a few limitations, however, the benefits of using a RO Reverse Osmosis Water Dispenser Purifier as highlighted in this article outweigh its limitations for most homes.

1. Adapting To A Different Water Taste
At first, you might dislike the taste of water produced by the RO Reverse Osmosis Water Dispenser Purifier. This is because the process of reverse osmosis takes away several minerals you might have been used to in the water. The taste can be unusual. Although, some people consider these minerals like calcium as necessary for a healthy body, in reality, these minerals are absorbed by your body into your bloodstream from the food you consume daily.
2. Requires The Timely Change Of Pre-filters
The pre-filters of a RO Reverse Osmosis Water Dispenser Purifier protect the semi-permeable membrane during the process of reverse osmosis. Failure to change these pre-filters on time can damage the membrane used during reverse osmosis. How? The RO membrane could be ruined by free chlorine.
This might require the replacement of the entire RO water filtration system. Although there is no easier means to know when this can occur, fortunately, you only have to change these ore-filters once every year.
3. The Rate Of Flow Of Water Is Lower Than Expected
RO Reverse Osmosis Water Dispenser Purifier produces water at a lower pressure than expected. Although for most homes, the water produced through a RO water dispenser purifier might be enough daily, you might need to be patient for the RO system to regenerate more water if you consume much water daily.

Conclusion
If you need the best water filtration system for your home or office, a RO Reverse Osmosis Water Dispenser Purifier is the best water purification system for you. Despite its limitations, the advantages listed in this article are the reasons why the use of RO water dispenser purifiers has become very popular. Drinking safe and clean water free of contaminants is essential for our well-being.For more about pros and cons of RO reverse osmosis hot and cold water dispenser purifier with alkaline water filtration system,you can pay a visit to Olansi China at https://www.olansichina.com/water-purifier.html for more info.