Some common questions in the world of OEM And ODM china home air purifiers
Views: 48 Author: China Air Purifier Manufacturer Publish Time: 2021-08-04 Origin: https://www.olansichina.com/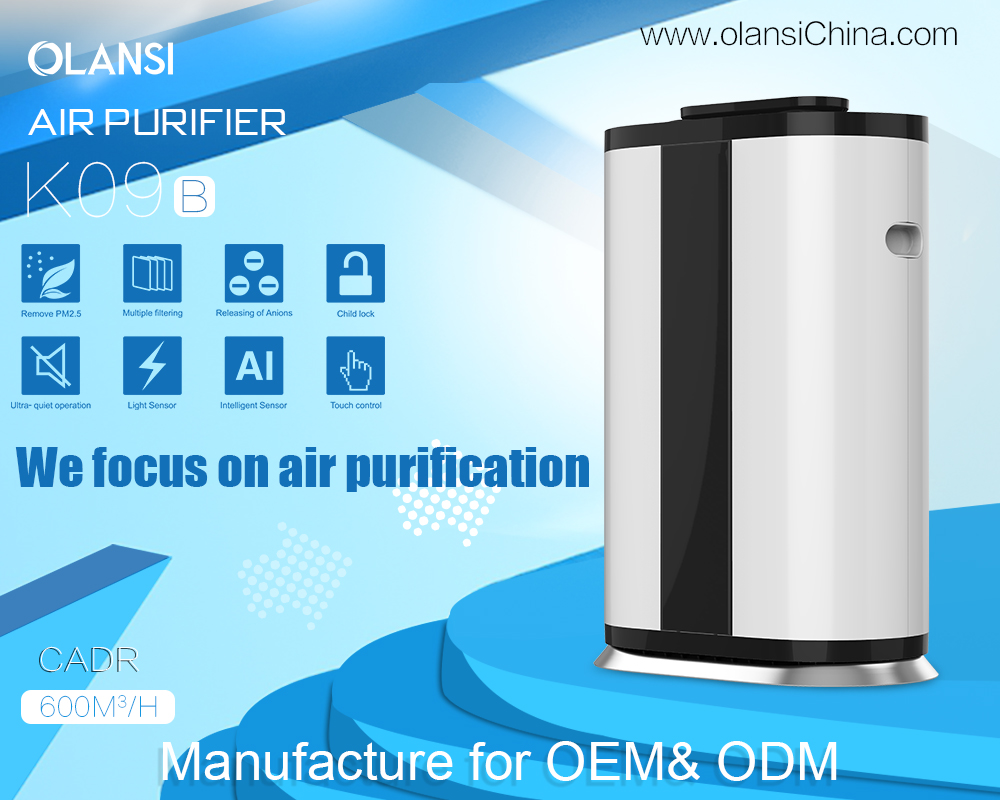 Some common questions in the world of OEM And ODM china home air purifiers
China air purifiers have to be chosen with lots of considerations in mind. Before choosing the best option, needs have to be evaluated, and questions asked to help learn more about what is available and what the best option is for particular needs.
Several questions should be asked when picking the best Olansi air purifier for the home.
1. Is a purifier needed in the home?
The answer to this question depends on different factors. They include comfort that is desired and the kind of air quality found within the home. There are some factors that have to be considered too. There are many organizations that agree that the quality of indoor air has been worsening. Irritants and allergens like pet dander, smoke, and dust tend to worsen indoors than outdoors.
There are many reasons that can help determine the need of the best home air purifier. These include allergic symptoms such as a runny nose, watery eyes, and itchy eyes. Frequent skin rashes, dry skin, and itchy skin could also be an indication. Others include owning pets that live indoors, living with or being a smoker, and having breathing issues like asthma. If there is mildew or mold in the home, an air purifier may be a great option.
2. What does an air purifier clean?
China air purifiers are not made equal. This means different options have different capabilities. Air cleaners can clean very particular substances from the air. However, there are differences in the way they clean and what they can clean. Some purifiers can deal with particulates and dust effectively. There are yet others that are perfect for mildew, mold, viruses, and bacteria. Few options can handle all the pollutants at once.
3. Which is the best air purifier size?
When picking the size, it is important to check the rating given by the company. This is why choosing from Olansi air purifiers is such a good idea. The ratings are correct and can help determine the kind of room an air purifier can handle adequately. Many of the options available in the market are individual single rooms instead of whole-house options. If you don't have an air filtration system installed with the HVAC system, separate units are the best option. It gets even better if the units are easily portable. The CADR number indicates the air delivery rate, and it needs to be 2/3 of ratio per square foot within a room.
4. Ozone and safety indoors
Ozone can be described as a tasteless and colorless gas with three atoms. It occurs naturally and is produced through electric discharge during thunderstorms within the upper atmosphere. When kept within an acceptable level, it is safe indoors. This should be between .02 and .05 parts /million. Olansi air purifiers understand the importance of keeping the ranges in check. The purifiers are created to ensure the correct amount of ozone is maintained and does not go beyond the acceptable levels.
For HEPA air purifiers to work well, it is important to ensure that filters are changed, and the air purifier cleaned regularly. Different factors dictate the frequency; there are also manufacturer specifications and guidelines that can help determine when the right time to clean or change filters is.For more about OEM And ODM china home air purifiers,you can pay a visit to Olansi China at https://www.olansigr.com/ for more info.