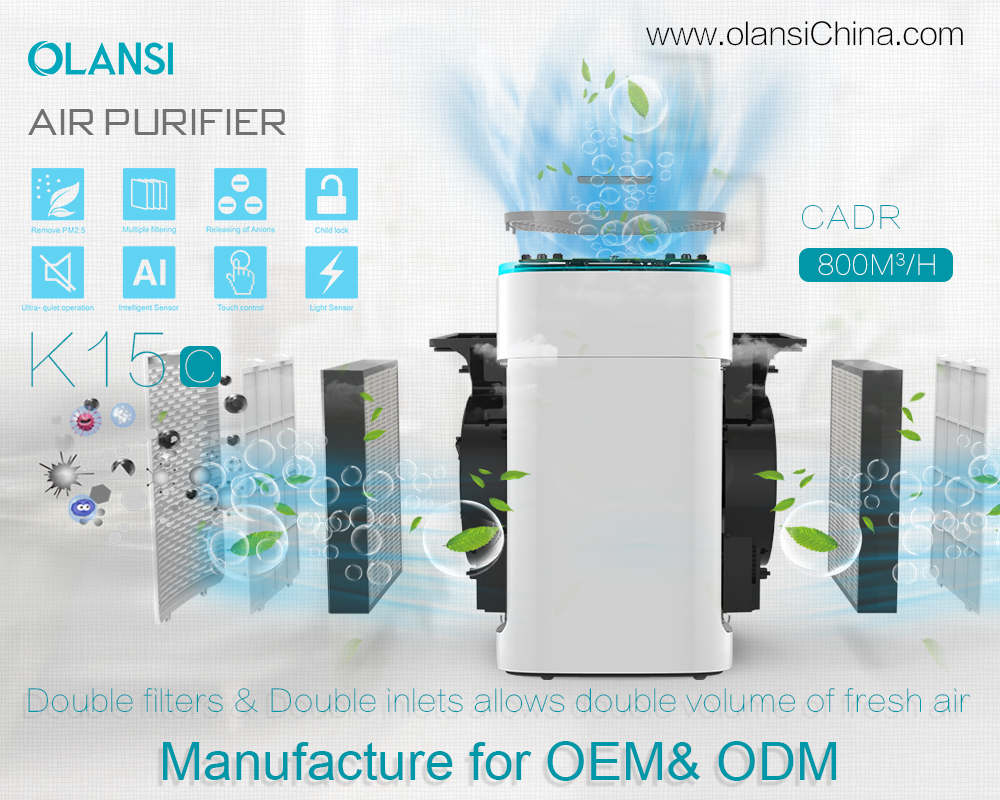 Air purification system technologies used in the creation of customized private label home air purifiers
Air purifiers are great at eliminating different things from the air. This includes gas, odors, mold, pollen, virus, bacteria, mites, smoke, contaminants, allergens, pollutants, and dust. There has been an increase in indoor pollution, which has necessitated the use of china air purifiers.

There are different brands in the market, and each has its own specifications making it hard for the buyers to make a decision. Before picking the ideal option, it helps to understand the technology in use.
There are two categories in this case. There is active technology and passive technology.
Passive
This technology involves air purification done by drawing air into the purifier. This air is then passed through filters within the device, which purifies contaminants, odors, gas, allergens, pollen, dust, etc. Some popular passive technologies that are in use today include:
• HEPA or generic filters. They are best for filtering solid particles
• Activated carbon is used to remove odors and chemical compounds
• Electrostatic precipitators: these are perfect for filtering small particles
• UV filters: these are perfect for dealing with micro-organisms found in the air
The purifiers in this category make use of passive technology to have filters as a requirement for them to function the way they are designed to.
Active technology
In this category, the air gets purified outside the unit. The home air purifier, in this case, produces an effect on the air. These air purifiers come in two types, namely:
• Ionizer purifiers: these are options that produce some ions. These ions then attach to particles found within the air and eliminate different chemical compounds, dust products, and so on from the air they are cleaning.
• Ozone generators: these are responsible for altering oxygen molecules within the air and makes them ozone. It is these that destroy different micro-organisms and gets rid of gases and odors within the air.
Active and passive
This is where passive and active technologies come together and work hand in hand to give an efficient purification. These home air purifiers are the best in the market since they work better than individual technologies.
Before picking the ideal Olansi air purifier, it helps to be sure about its purpose. It helps to ensure that the choice fulfills the purpose it is meant for. There are different things that home air purifiers need to do.
Allergies: in urban settings, a dusty environment is very common. There is pollen, tiny stones, dust, and so on. Most people are allergic to this. A HEPA air purifier can handle such pollutants.
Asthma: this is a breathing disease that becomes worse when there are impurities in the air. An air purifier in such a case should also have the capacity to oxidize air.
Odor: houses today have limited ventilation. This means air circulation is rather difficult. Air stagnation causes odor. The odor may also be caused by burning, cooking, and painting. A purifier should be able to handle such issues if they exist.
Depending on whether you are dealing with mold, smoke, pet dander, viruses, or chemicals, you should pick an Olansi air purifier capable of cleaning the air. Choosing between HEPA air purifiers, UVC air purifiers, PM2.5 air purifiers, and negative ion purifiers often depends on the kind of pollutant within the home. For more about air purification system technologies used in the creation of customized private label home air purifiers,you can pay a visit to Olansi China at https://www.olansise.com/ for more info.