Testing indoor air to determine the kind of china air purifier needed
Views: 24 Author: China Air Purifier Manufacturer Publish Time: 2021-12-06 Origin: https://www.olansichina.com/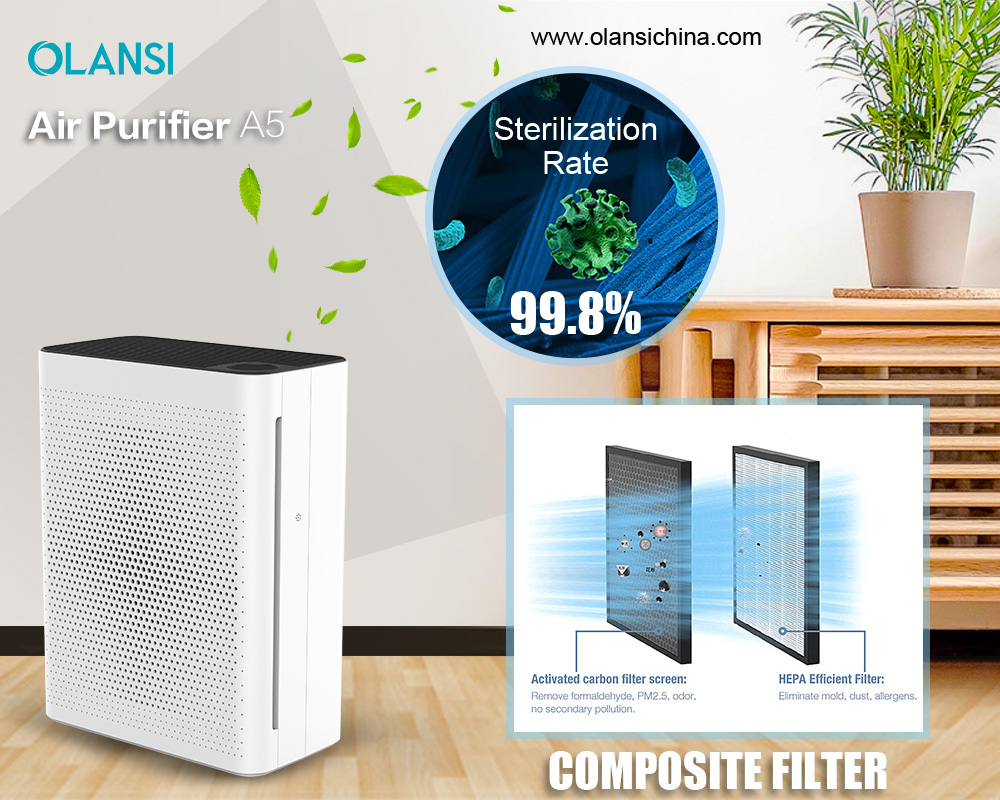 Testing indoor air to determine the kind of china air purifier needed
Outdoor air pollution is usually the responsibility of government agencies as well as private agencies. There is nothing much an individual can do to handle outdoor pollution. It has to be a collective force, and usually, governments impose regulations and restrictions to ensure that outdoor air quality is upheld at all times.
The tests carried out by the government are conducted in the industrial zones to ensure that normal levels are achieved.
The air quality within the home should be checked as well. This is the responsibility of the homeowner. The world is highly polluted today, and that is why carrying out air tests is a must, especially for anyone who values safety and health.
Testing air quality
To have a conclusive and in-depth air test, the services of a professional may be needed. However, other ways can help identify how healthy air is within the home.
Handling tests as DIY
Tests can be done individually. Sometimes the test can be simple inspections, and they may cost nothing. Other devices can be bought to measure the air quality.
Monitors: this kind of monitor can help check chemical pollutants, tiny air particles, temperature, humidity, and mold spores. Such a device can be purchased easily in the market.
Carbon monoxide detection: this gas is dangerous and can be present in the home, especially from open fireplaces. This is hard to detect because it has no smell, color, or taste. A carbon monoxide detector can help in such a case. This is the only way to ensure that the pollutant is not present. There are many deaths reported over winter because of high levels of carbon monoxide.
Radon tests: this is another dangerous gas, and it is releasedd in the soil when uranium breaks down. This gas can enter into homes when there is a radioactive element within the home. Getting tests done is the only way to identify the presence of the gas within a home.
Air purifiers and dealing with the pollutants
With an air purifier, one can be sure that most of the airborne particles are dealt with and removed from the air. Some air purifiers come installed with an air quality monitor. It is very easy to see the air purifier in action and watch as the air quality improves with such a device.
Olansi air purifiers are the best in the market, and they come with the latest technology to handle different types of air pollution within the home. When working with a reliable air purifier manufacturer, one can guarantee that air quality within the home is upheld.
There are many types of devices from Olansi, including UVC air purifiers and HEPA air purifiers. One should purchase a device based on the kind of air pollution present in the home. The best air purifier factory should produce functional devices to deal with air quality and uphold it. Not all air purifier suppliers are the same. Choosing Olansi air purifiers can be very beneficial to the quality of indoor air.For more about the kind of china air purifier needed,you can pay a visit to Olansi China at https://www.olansichina.com/china-air-purifier.html for more info.